What To Pack In Your Hospital Bag For Birth
WHAT TO PACK IN YOUR HOSPITAL BAG FOR BIRTH
The clothes are washed and the nursery is ready, maybe the infant carseat is already securely in place.
But what about your hospital bag? If you're around 36 weeks pregnant and haven't yet packed your bag, this great Hospital Bag Checklist is for you!
Regardless of your chosen place of birth you're going to need some things packed. If you're planning a home birth it's still a great idea to have a bag sorted for yourself and baby.
Click on the picture and download your own printable copy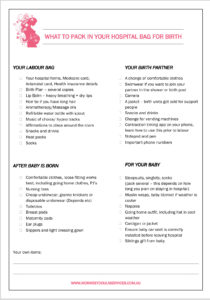 YOUR LABOUR BAG
 Your hospital forms, Medicare card, Antenatal card, Health  insurance details
 Birth Plan – several copies
 Lip Balm – heavy breathing = dry lips
 Hair tie if you have long hair
 Aromatherapy/Massage oils
 Refillable water bottle with spout
 Music of choice/ hypno tracks
 Affirmations to place around the room
 Snacks and drinks
 Heat packs
 Socks
YOUR BIRTH PARTNER
A change of comfortable clothes
Swimwear if you want to join your partner in the shower or birth pool
Camera
A jacket – birth units get cold for support people
Snacks and drinks
Change for vending machines
Contraction timing app on your phone, learn how to use this prior to labour
Notepad and pen
Important phone numbers
AFTER BABY IS BORN
Comfortable clothes, loose fitting works best, including going home clothes, PJ's
Nursing bras
Cheap underwear, granny knickers or disposable underwear (Depends etc)
Toiletries
Breast pads
Maternity pads
Ear plugs
Slippers and light dressing gown
FOR YOUR BABY
Sleepsuits, singlets, socks
(pack several – this depends on how long you plan on staying in hospital)
Muslin wraps
Baby blanket if weather is cooler
Going home outfit, including hat in cool weather
Cardigan or jacket
Nappies/wipes
Ensure baby car seat is correctly installed before leaving hospital
Siblings gift from baby